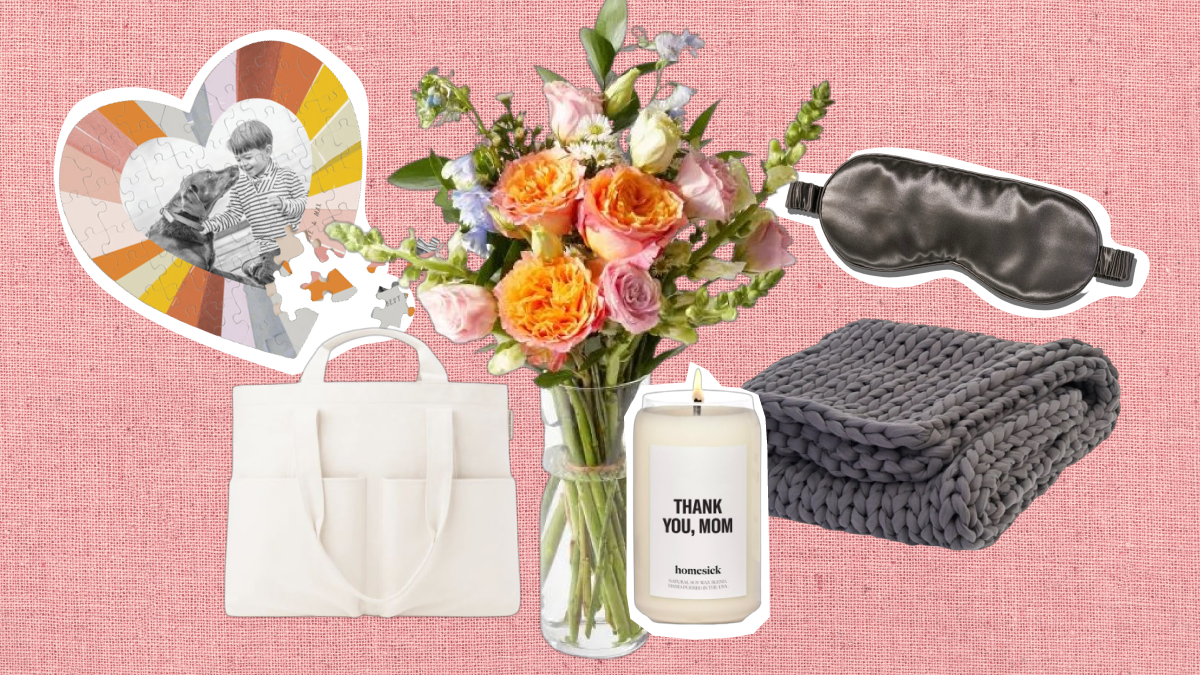 With mother's day rapidly approaching, the eternal question is: what to get mom? She has everything she could possibly want, and you don't want to resort to the typical flowers or chocolates. This year, why not get creative and give her a unique gift that she'll love? Our team has curated a list of 10 gifts perfect for any mother, ranging from home décor to beauty products. Browse our list below and find the perfect present for the important women in your life. Happy Mother's Day! 
Customizable 60 Piece Heart Puzzle
Looking for a fun and creative way to show your loved ones how much you care? Then look no further than the Minted custom heart puzzle! The puzzle is made of high-quality materials and offers hours of entertainment to the whole family.
$42 Minted.com
Mother and Child
In her book Mother and Child, Swanson Frank interviews and encourages a group of women to express what motherhood means to them. Their responses are profoundly intimate and moving, providing a powerful reminder of the gift of love that mothers and mother figures give us. A must-read for anyone looking to celebrate the amazing strength and beauty of mothers everywhere.
$95 Assouline.com
Cotton Tote Bag
Dagne Dover is highly recommended for anyone searching for durable and chic staple bags. With all its organizational features to keep her essential items in order, this organic canvas tote is the perfect go-to for the busy mom in your life. For any new mothers, we suggest taking a look at Dagne Dover's modern diaper bag.
$165 Dagnedover.com
Laura Park Tumbler
Our love for Laura Park is now expanding beyond wallpaper and fabrics with her new range of accessories. Not only is her tumbler collection perfect for the on-the-go mom, but it beautifully reflects the designs seen in her interior decor collection.
$38 Lauraparkdesigns.com
Serena & Lily Linen Pajamas
Serena & Lily is another interior decor brand that has won the hearts of many with its refined coastal aesthetic. Did you know they sold clothing as well? We recommend taking a peek at their European linen pajamas. They are said to be extremely comfortable, soft, and breathable–ideal for a mother's relaxing weekend.
$148 Serenaandlily.com
Necessaire Body Ritual
Treat your mother to a self-care experience with Necessaire's Body Ritual kit. As a result, the skin feels and looks healthy after using this set, as it exfoliates, cleanses, replenishes, and moisturizes.
$40 Sephora.com
Slip Pure Silk Pillowcase
Give your mom the gift of a good night's rest with the Slip hypoallergenic silk pillowcase. There are plenty of benefits, including hair crease and split end prevention, as well as a silk blend intended to absorb fewer facial creams.
$89 Nordstrom.com
Maisonette Marble Body Brush
As interior designers, we value the natural beauty of marble in interior spaces, so it should come as no surprise that we recommend Maisonette's new marble body brush. With this gift, you add a touch of luxury to a mom's daily routine. Note, each brush is handmade with unique veining and coloring.
$129 Maisonette.com
Addison Weeks Amazonite Bangle
Addison Weeks is a brand that we absolutely love here at the office. They carry an extensive line of natural gemstone jewelry that is simply breathtaking. But that's not all they do. Their sister company also provides hardware for interior spaces that is equally as stunning. If the mom in your life likes special and unique pieces, then Addison Weeks is definitely the brand for her!
$140 Addisonweeksjewelry.com
Homesick Thank You Mom Candle
Homesick is a fragrance brand that strives to create products that are unique as our memories. Their collection names range from US states, occasions, and moments. This mother's day, remind your mom how much you love her with one of Homesick's lovely scented soy candles. The candle displayed has lavender, sage, and jasmine notes, with base notes of sandalwood, musk, and lily.
$34 Bloomingdales.com